This weekend the Caterham Motorsport Championship heads to Sepang International Circuit, joining the vibrant atmosphere of the Malaysia Speed Festival (MSF).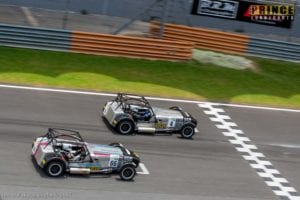 After a two month break from the first event, all twelve drivers are more than eager to get back into their cockpits and fight for important points in what is shaping up to be the closest championship fight the series has seen.
The 2016 420R class champion Tan Pye Sen is back on the grid to open his championship account after missing the first weekend, but it won't be easy for him as the two championship leaders Rocky Siow and Arnaud Dupuis have their own score to settle.
"I'm very excited to get back into a race car this weekend," said reigning 420R champion Pye. "I am very much out of practice and can only hope that my competition ignore black flags and jump the start again like last year, to have any chance. But seriously, it's fun trying to rise up to the challenge, and that's what I will be trying to do."
A new racer entering the super fast 420R class is young Singaporean rising star Daim Hishammudin. Daim was touted as the next big thing from Singapore until he had to put his racing on hold for school and National Service. Now with the support of Air Asia the young star is excited to get back behind the wheel, "I'm really excited to be back in a car and racing this weekend. I'm very grateful and thankful to AirAsia and Caterham for giving me the opportunity to get back at it."
Also keen to catch the two championship leaders is third place sitter Paul Ng. After more testing Paul is fired up to show us his true potential.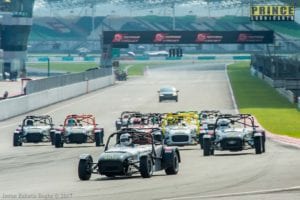 The Supersport class championship lead is also up for grabs this weekend with only three points separating leader Halim Mu'Azzam and rookie Ivan Petev, who had an impressive first race weekend with two second places and a win.
"I've been busting to get back behind the wheel. I had an awesome weekend at the first event, and I'm confident I can take on Halim and hopefully grab the championship lead," said the Bulgarian Petev.
With third place holder Jean Charles Dahout out this weekend, it gives Shirendra Lawrence and Sophia Low a chance to close the gap on the leaders. But two drivers looking to get back on the podium and stamp their challenge will be Sidqi Ahamd who didn't have the best start to the year back in March only scoring points in one race. And Malcolm Chang who will be competing for the first time this year.
The Caterham Motorsport Championship also welcomes newcomer Suvat Kulphaichit from Thailand, who is an experienced touring car racer in the Thailand Super Series with Honda Jazz.
This will be the second time the Caterham Motorsport Championship joins the popular MSF Racing Series. The MSF Racing Series is the biggest local motorsports event in Malaysia, with over 150 cars entering each round and over 4,000 spectators. More information can be found on their website: http://msfracing.com/.
Qualifying starts at 11am, with Race 1 at 13:30 and Race 2 at 15:30 on Sunday. Grandstand admission is free or you can buy tickets to the paddock for rm20 before 11am or rm35 after 11am.